Scrivener for iPad has a Quick Reference feature that provides you with a way of referring to another document or research material whilst writing in the editor. But what about referring to other documents or research material on your iPhone, where screen size dictates that it's not possible to view two panes alongside one another?
In the footer of your editor on an iPhone, you will see a clock icon. (On an iPad the clock icon is in the nav bar above your editor.) Tapping on the clock icon will bring up a list of the most recent documents you have opened. The documents are listed chronologically, with the top item being the document you last opened. If you want to refer to a research file on your iPhone, simply find it in your project binder, load it into the editor, and then use the clock icon to access your list of 'Recent Documents' and toggle back and forth between the research material and the text document you are writing.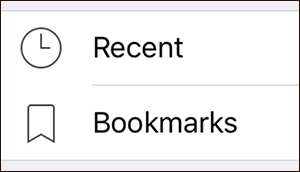 The 'Recent Documents' list is also available in the home screen of the project (the root binder level) along with a 'Bookmarks' list, so you can immediately refer to pertinent documents when coming back to a project.