With Scrivener 3 comes a plethora of new settings for adjusting how the software looks. The ability to save themes either as presets that you can switch to on the fly, or as files that you can share with others, is found along the bottom of the preference pane in the
Manage...
button.
Managing Themes
To install and apply a theme, such as the one provided here:
Use the

Scrivener/Preferences...

menu command.

Click the

Manage...

button along the bottom left.

Choose the "Load Theme Preferences…" option.

Select the .stheme file that you've downloaded and wish to install.
The settings will be immediately applied to your preferences. Theme settings only change those settings that relate to select appearance options. They won't override how you use the software, and so they can be safely experimented with.

If you'd like to keep these settings as a preset, again use the

Manage...

menu, and this time select "Save Theme Preferences as Preset…` command.
Optionally: you can drag the .stheme file directly into Scrivener's support folder (use the

Reveal Support Folder in Finder

menu command from either the main Scrivener menu or File menu for macOS/Win, respectively), under the "PreferencePresets" subfolder. It will now appear in the Manage menu as an option you can select with a single click.

Give the preset a name, and select whether any of the fonts from your current settings should be saved along with it.
You might want to save your own settings in this manner first, before trying out a theme you've downloaded. That way you can quickly switch back to your own settings if it doesn't work for you.
Additionally, you can download the Scrivener 3 default appearance settings as a theme.
With that all out of the way, here is a theme you can try all of this with.
Removing Themes
Have you installed a theme as a preset that you don't care for? You can remove it from the menu with the following steps:
Use the

Scrivener/Reveal Support Folder in Finder

menu command.
Drill into the PreferencePresets folder.
Locate the .stheme or .prefs file you wish to remove and drag it to the trash.
Purple Haze
For Scrivener 3 (currently macOS only):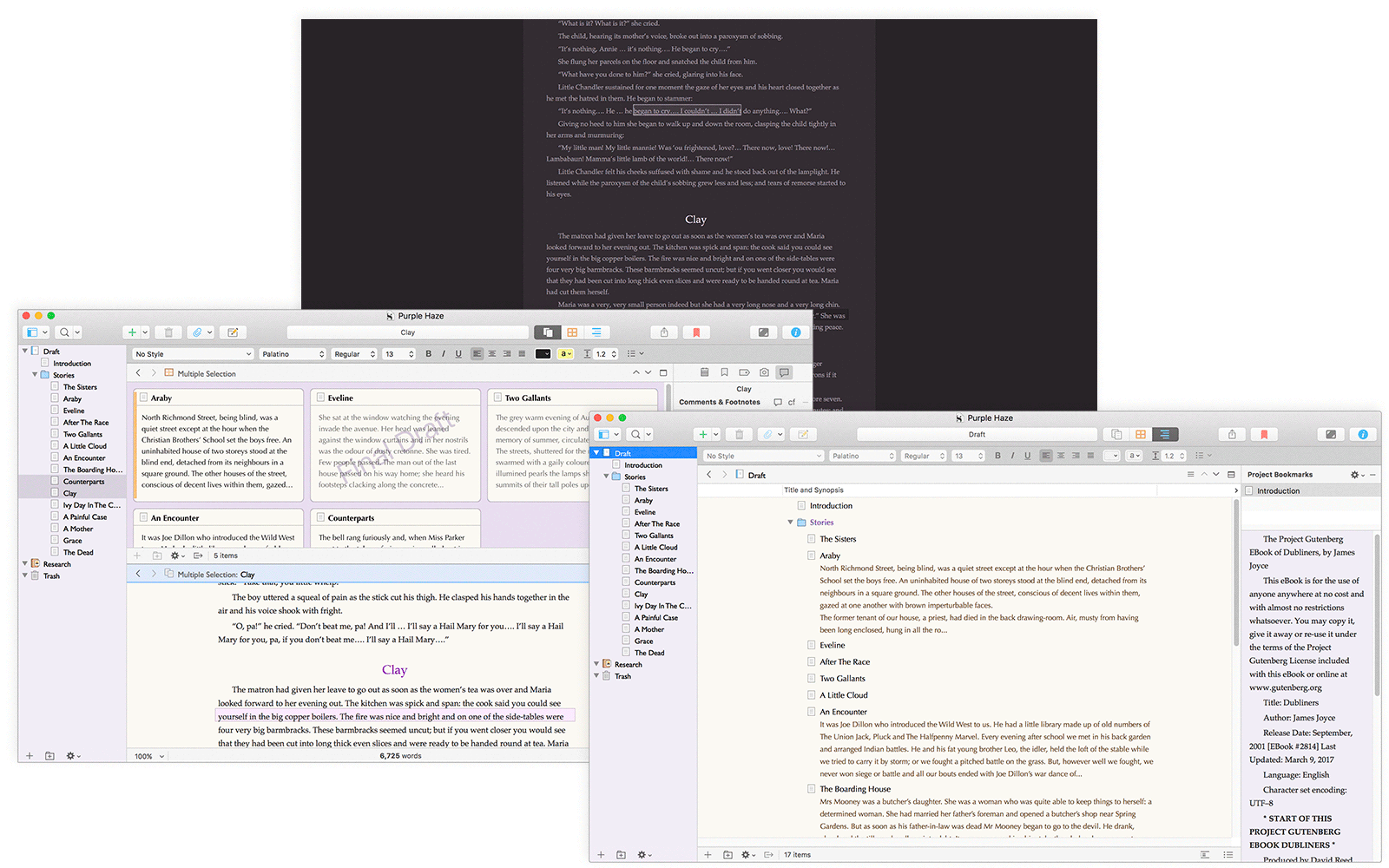 Download
.
Unzip the downloaded file if necessary, and within you'll find two variants. One will set up fonts the way they are shown in the screenshots, and the other will just change the colours, leaving your user interface font settings alone.
Theme Index
I will do my best to keep an index of the themes posted to this thread, to save folks from having to read through the entire thing. If you've created a theme and you don't see it appear with a couple of days, give me a nudge via PM. If you update your post—perhaps to remove its "work in progress" status, let me know as I'll otherwise not see notification of the edit.