Hi, I seem to be having the opposite problem than the one being discussed here:
viewtopic.php?f=30&t=21882&p=145851&hilit=word+count#p145851
Basically, my word count seems to count EVERYTHING, including notes, research, and scenes that have been taken out of the manuscript and stored in trash, or the folder I created called "Tabled Scenes." Right now, it's at 131,135 as seen in the screen shot, and it goes up and down as I edit the MS... and everything else. I tried playing with converting folders to file and back. The majority of my manuscript is unchecked for "Include in Compile" because the last time I compiled, I was only trying to export the first six chapters for someone to read. Unchecking and checking "Include in Compile on the various texts seem to have no effect whatsoever.
A screenshot of my current setup in Scrivener: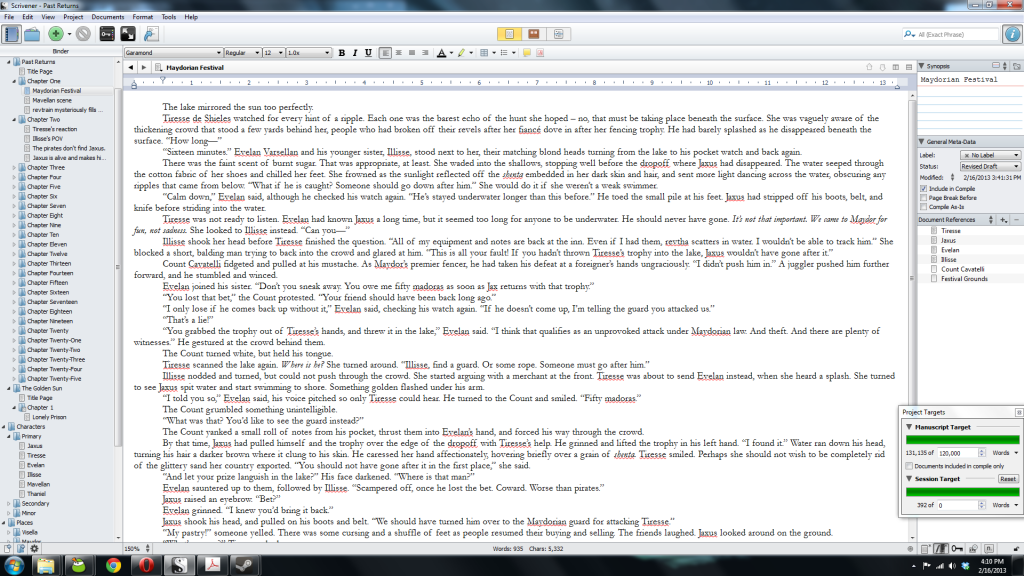 Help! Is there any way for me to exclude the extraneous material from the wordcount so I can get a more accurate one? I have the latest Scrivener for Windows, version 1.5.3.0, if it helps. I've also talked to a friend who has the same version of Scrivener and looked at my file.
EDIT: ok, apparently, my pic is too wide to fit in the post? I know that it's possible to create an image with scrollbars (overflow). I have no idea how, though, and google is not helping me right now. I suspect I'm using the wrong search terms. So here's the direct photobucket link:
http://img.photobucket.com/albums/v642/ ... e2b10f.png