I just tried pasting text from a Scrivener document to the Apple Notes app, and it refused to let me paste the text and instead inserted this: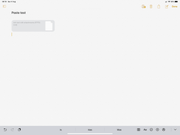 This is a bit frustrating. Has anyone else experienced this?
Pasting from any other app into Notes seems to work fine, whether rich text or plain text.