We're done!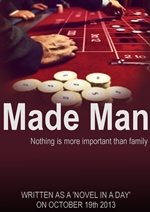 Pick up a copy of this year's NiaD book:
http://www.pigfender.com/index.php/2013 ... niad-2013/
The Scrivener project used to create the final copy is also available, and it includes the chapter briefs that were provided to the authors on the day of the event:
http://www.pigfender.com/index.php/2013 ... -in-a-day/
Initial announcement follows.
---------------------------------------------------------------------
On Saturday 19th October we will once again be working together to write a Novel In A Day. For anyone not familiar with the event, participants receive a briefing pack on what to write at midnight UK time on the day of the event and have until 8pm the same day to submit their chapter of at least 1,500 words. The individual sections are then compiled using the magic of Scrivener into epub, mobi and pdf files which will be made available for free download, along with the Scrivener project itself.
This is the third time we have run this event and it's proven to be a lot of fun for everyone involved (
except pigfender
) each time. You can read more about the event and pick up free copies of the previous years' books at
novelinaday.com
.
If you are interested or have any questions, then please sign up in the forum below!