A problem that I can see with this idea just might in fact be the answer to how to this thing you're looking to do. The problem of course is that the target progress bar is already pretty overloaded with tracking features, with document targets having the most promising set of capabilities for something like this. Here are some example settings: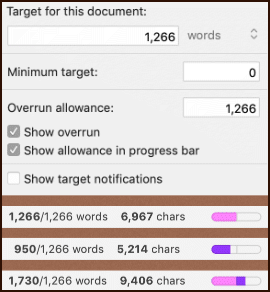 Using settings to track positive/negative deltas in a writing session.
To start tracking our edits, we set the goal to the current actual amount we have written, and then we also add the current word count to the allowance. What this does is essentially double the effective word goal with regards to how far the progress bar is advanced. Even though we've technically met the goal, because we can type the entire document all over again without overrunning, we get a nice 50/50 starting point, as shown in the first toolbar.
By showing the overrun and the overrun allowance in the progress bar, we get (a) a differently coloured progress bar when we write more than what we started with, as shown in the third toolbar example, (b) likewise if we cut words from where we started from the progress bar changes colour, as shown in the second toolbar, and finally (c) we get the little "middle marker" to better visualise where we've come from.
As for draft-wide, there are some of these features in the Project Targets tool as well. You can't get quite the same neg/pos view without the extra display options, but it looks like it might be possible to use the available features to track where you are coming from rather than where you are going.
Another approach, rather than trying to use that tool, is to make use of the larger scale application available to Document Targets, as documented in
Tracking Goals for Groups
, pg. 506.