EDIT: Scapple is now available for purchase. Please visit the product page:
http://www.literatureandlatte.com/scapple.php
-----
Hello all,
It gives me great pleasure to introduce you to Literature & Latte's newest piece of software - Scapple.
scapple /skapˈl/ ... vt to work or shape... roughly, without smoothing to a finish.
- The Chambers Dictionary, 12th Edition
Scapple is now ready for beta-testing, and I'd like to invite everyone who is interested to download it, give it a whirl, and report any bugs to us.
What is Scapple?
Scapple is the software equivalent of how I work out my rough ideas on paper. (If I didn't hate the word "brainstorming" so much, I'd probably call it brainstorming software.) When I'm in the early stages of any project, whether that's a writing project or a software project, I tend to throw a bunch of ideas down on a big piece of paper, spacing out as-yet unrelated ideas, clustering related notes, and drawing connections between them, trying to work out how everything fits together. Here's an example of how my messy thoughts translate to paper at that stage: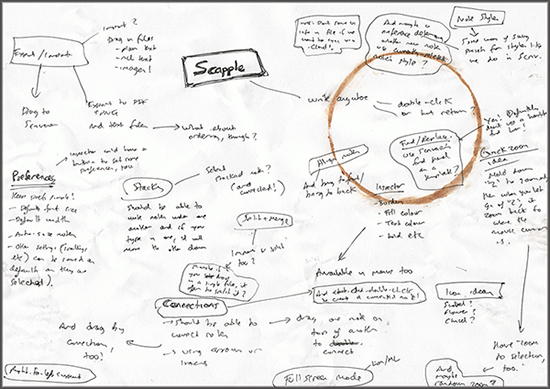 (I wish I could say I hadn't spent time wiping instant coffee on the bottom of a mug to add the coffee ring stain especially.)
And here's how that same braindump (another neologism I dislike!) looks in Scapple: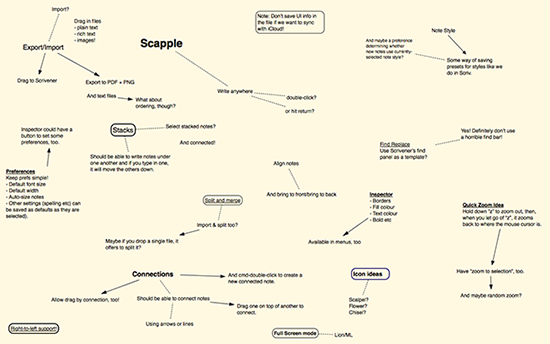 In short, then, Scapple is a tool for getting early ideas down as quickly as possible and making connections between them. The main advantage of doing this in Scapple instead of on paper is that you don't run out of paper (the Scapple canvas expands to fit as many notes as you want to create), you can move notes around to make room for new ideas and connections, it's easy to delete and edit notes, and it's easy to export your notes into other applications when you know what you want to do with them.
Scapple
isn't
mind-mapping software - rather, it's more like a freeform text editor, allowing you to make notes anywhere on the page. It doesn't force you to make any connections, and it doesn't expect you to start out with one central idea and branch everything else off that. There's no hierarchy - every note is equal, so you can connect notes in circles or even connect every note to every other note if you so wish. Individual notes can be a short or as long as you like. Creating and removing connections between them is as easy as dragging one note onto another.
Most importantly, because its purpose is to allow you to get ideas down and make connections between them quickly, Scapple is dead simple to use. Although I'm currently writing a full manual for it, the QuickStart Guide a little further down should contain everything you need to dig in and get using Scapple.
About the Beta Version
Please do remember that this is a beta version. Although we've been testing it in-house, and
alpha versions have been publicly tested
, this is the first full-scale beta-test. There are therefore bound to be bugs and quirks lurking - but that's the whole point of beta-testing.
Thus, please do not download this software unless you are prepared to run into bugs and quirks, and, most importantly,
report them
.
If you run into bugs, please start a thread in this Beta Testing area. (Note that the "Technical Support" and "Bug Hunt" Scapple forums are currently locked and will only be unlocked once Scapple is out of beta - all posts about the beta version should be posted in the Beta Testing forum.)
Also, please note the following:
This beta will expire on 27th February. I'm hoping to have this on sale before then.
The manual is not yet complete. You can access the partially-finished manual via the Help menu, but it peters out halfway through.
The current application icon is just a placeholder. I have commissioned our regular graphics and icon designer to create one, but we are still throwing around ideas about what it should look like. If anybody has any ideas for a great icon, feel free to start a thread about it!
The functionality is already built in so that you can drag notes from Scapple into Scrivener's freeform corkboard or into the binder. You can also drag from Scrivener's freeform corkboard into Scapple. However, all of this requires an updated version of Scrivener, so you should download the latest beta of Scrivener if you want to try this out.
The Download Link
(Current version: Beta 0.9.0.2 Build 2786)
EDIT: Scapple is now available for purchase. Please visit the product page:
http://www.literatureandlatte.com/scapple.php
System Requirements
Scapple requires an Intel Mac running OS X 10.6 (Snow Leopard) or above.
QuickStart Guide


To create a new Scapple document, select "New" from the "File" menu (⌘N). Also use the File menu for saving, exporting and printing.
Double-click anywhere on the canvas to create a new note (or hit ⌘⏎).
Double-click into a note to edit it; hit Escape (⎋) to end editing.
Drag one note onto another note to make a connection between them. Repeat to remove the connection.
Hold down the Command (⌘) key when dropping a note onto another to switch between making an arrow or dotted-line connection. Hold down the Option (⌥) key when dropping to have the arrow point the other way. Or, hold down both Command (⌘) and Option (⌥) to have arrows pointing both ways.
Hold down Option (⌥) while double-clicking to create a note that is connected to selected notes by a dotted line, or hold down Command (⌘) to create a note connected to selected notes by an arrow. Hold down Shift-Command to create a note connected with the arrow pointing the other way, or Option and Command to create a line with arrows pointing both ways.
Click on a note to select it, or click and drag outside of a note to create a marquee rectangle that allows you select several notes. Shift-click or cmd-click also allows you to select multiple notes one at a time.
When the mouse is over a note, a dotted line border will appear around it. Click and drag the left or right of the border to make the note narrower or wider. (You can also drag the top and bottom borders of images.)
Drag notes to move them around (to move multiple notes, select them before dragging).
Grab and drag the connecting line between notes to move connected notes.
Drag in image files from the Finder to add them to your Scapple map.
Most text files can be imported by dragging them in from the Finder.
When a note is selected, hit ⌘⏎ to create a new note that is stacked directly underneath the selected note. (When notes are stacked, they will automatically adjust their vertical positions when you edit notes above them in the stack.)
Stack selected notes by choosing "Stack" from the "Notes" menu ( ⌘[ ).
Hit ⌘+ or ⌘- to make the font of selected notes bigger or smaller.
Use the inspector (View > Inspector or ⌥⌘I) to change the appearance of notes or of the document. (Most of these options can also be found in the "Format" menu.)
Use ⌥⌘↑ and ⌥⌘↓ to zoom in and out, or use the slider in the footer bar.
Hold down the "z" key while not editing to zoom out and see the entire canvas. When you release the "z" key, the previous zoom setting will be restored, but now showing the part of the canvas the mouse was over when you released the "z" key.
Hold down the space bar and the left mouse key to drag-scroll the canvas.
The contextual (ctrl-click) menu contains many common commands.
About the Final Retail Version
Once Scapple is out of beta-testing, we will sell it both via our own site and via the Mac App Store. (The Mac App Store version will support iCloud - only Mac App Store apps can do so.) We haven't settled on a definite price yet, but I'm thinking that it will be around $10 or just under. If you have any strong feelings about the price, you can let us know by starting a thread in the Beta Testing forum, but note that we can't afford to give it away (which includes prices such as $5
).
Finally, a big thank you to everyone who took part in the
alpha testing
thread and who gave me so many ideas for turning an originally-very-rough app into something that I hope is a bit more polished. A lot of ideas from that thread went into this version.
Oh, and just as with Scrivener, Scapple certainly won't suit everybody - like Scrivener, it's designed to aid with the way my brain works when working out writing projects and ideas, so please take it for what it is (i.e. if it seems pointless or of no use to you, then move along, nothing to see here).
Thanks!
All the best,
Keith