And it's a BIG one. I don't know if it happened to anyone else, but my Scrivener app just won't open up after I quit the app after updating to the 2.3.1. The app icon's image changed as well, to the paper with pencil, paint brush, and ruler image that the mac (I presume) defaults to when it doesn't register an image file for the app icon.
Basically what happened was I opened the app, updated to 2.3.1, then quit it after it didn't relaunch when I clicked "Install and Relaunch". After that the app icon changed and I couldn't open Scrivener anymore. When I right-click it it still behaves like it's the Scrivener app icon: it shows my recently opened Scrivener files and such. I restarted my mac, and it's STILL like this. Fortunately the 2.3 version of Scrivener is still here, so I can still use it, but I'm afraid to update it again in case it happens again.
I'm really confused. I don't know why this happened.
Image of the app as it is now: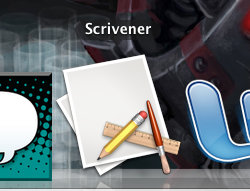 Screen cap of when I right click:
For now I'll just use 2.3, but I won't be updating until I know what's up.
I'm using a 13-inch Macbook Pro with an up-to-date OS X Lion.